We have recently been working on changing some of our website layout. We do love how everything looks and we do think that most of the site is sleek and easy to navigate. However, we have just revised a few areas of our website that felt left out, nothing dramatic!
One areas of the site which I felt like was letting us down was how cluttered our footer looked. Although it contained links to all the basic pages you need access to we thought it was still a lazy footer. Cannot remember what our old footer looked like? Here is an image to remind you!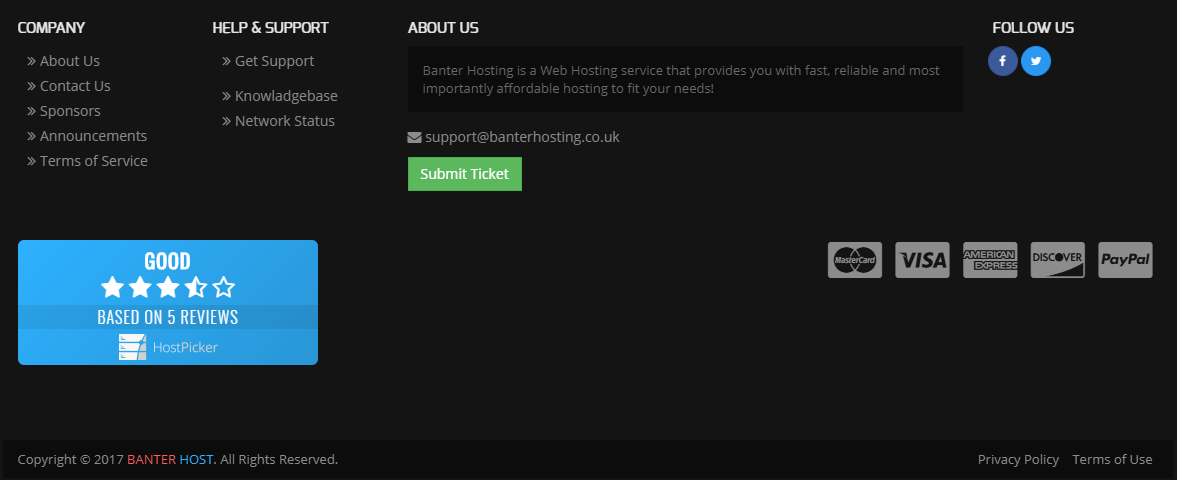 Here is a look at our new footer which looks more organised, clean and has all the links you need to find more out about our services and navigate through your account.
Not only is that one of the changes we have made to our site. We have also added a few new pages to our site.
We love speaking to visitors come onto our website via the Live Chat and we get alot of questions asking if we have any jobs going at Banter Hosting. Due to this we have created a Careers page on which we will list all our job openings in the future. You can check that out by clicking the link on your Banter Hosting 2.0 Footer today!
Wednesday, July 12, 2017
Powered by WHMCompleteSolution